classes & workshops for kiddos & adults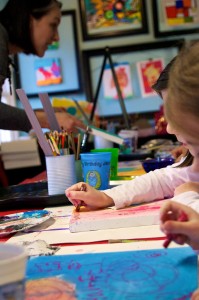 Classes and workshops with Artful Mayhem Studio provide a unique opportunity for you to explore and develop creative skills in a organized, yet informal atmosphere.  This freestyle creative center offers all sorts of options for you, from art in watercolors, acrylics, drawing, mixed media & sculpture, to jewelry, fiber arts, crafts & home decor, journaling & writing, music, as well as other exciting creative projects.  The possibilities are endless!
Each class starts with a 'warm up' activity, which is followed by step-by-step instruction with art terminology and history thrown in so that each artist will learn new knowledge, techniques, and proper use of the media as the project is explained.  Finally, the artists will have creation  time to take their own spin on the project, to finish it as they see fit, so that each piece of arti is as unique as the artist who created it.
We offer one-time workshops, as well as classes with multiple sessions, and semester-long classes as well; you are welcome to 'drop-in' to any open semester class, or join mid-semester, if you RSVP in advance.  Fees will be pro-rated.
Classes are filled on a first come, first served basis. Submit both completed registration form and payment to enroll; you will receive a confirmation email or phone call when your spot has been reserved.  Additional classes will be added as needed. Each class needs a minimum of 3 registered students; classes will be cancelled if minimum is not filled. When classes are full, you may be added to a wait list upon request, do not submit payment until a spot has opened for you.
Interested in learning about a particular subject or media?  Contact us to find out what is available, or to book a custom session!  We also have opportunities for parties and private lessons!
curriculum & classroom instruction
We are an independently & locally owned, private studio; and the uniqueness of our teaching style reflects that!  All classes are based on original ideas, techniques, and methods. This is not a 'boxed' lesson or project that you will learn elsewhere. Flexible teaching material and smaller class sizes (6:1 PreK, 12:1 (or less) K-12th) allow us to cater to the needs, interests, and creative quirks of each group of students! It's our goal to inspire each artist's creative gift.
If you are ready to enroll in classes, fill out a registration form and process your tuition payment to reserve your  spot.
Have additional questions? Contact us!