the studio
Our NEW location for 2015 (& beyond!) is at 138 Olive Street, just one block Southeast of our previous building.  The studio is open during varying class hours, Mondays through Saturdays. If you would like to schedule a tour, please contact us by email (info AT artfulmayhemstudio.com)  to schedule an appropriate time.
about us:
Sarah Zamora is the founder of Artful Mayhem Studio. In business in DFW since 2003, she is a self-taught, internationally published artist whose murals, art on canvas, and miniature art works are on display in both homes and businesses worldwide. Her art has been featured in printed books, magazines, articles, and zines. Sarah has taught various art and craft part-time classes for more than 10 years to students of all ages including creative arts to preschool kids, day camps for elementary students, public school art to middle and high schoolers, and drawing, painting, mixed media, calligraphy, jewelry, printmaking and altered art sessions for adults. Sarah is a Christian, wife, and mother of 2 children.
Melanie Bell (aka: "Mrs. Melanie") is a lead instructor at the studio since November 2012.  Her former years  teaching Middle School art in public school as well as in a preschool have brought tons of amazing experience to her classes.  She is a Christian, Wife, and mother of 2 sons.
We have several other teachers, guest instructors and studio assistants that happily call Artful Mayhem Studio their home.  Alexa, Misty, Abi, and Bethany are a few of the other members of our crew who teach and help with classes.
why we do what we do: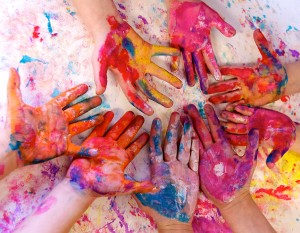 Well, because art is awesome, and it matters! Numerous studies have proven that arts teach children to express themselves more creatively, bolster self-confidence, and improve overall academic performance.  For adults, our classes function as a great social time with friends, as well as feeding your innate drive for creativity.  We want you to learn as you explore new media to thrive in your abilities and to create your own style!
Weekly instruction in a variety of media stimulates your imagination. Plus, let's face it; art is FUN! Artful Mayhem classes emphasize creativity; so that individuals will develop their own ideas and learn techniques to put them into action. Art Mayhem Studio offers quality instruction at competitive rates, and our class sizes are kept small (usually 6 – 12 students, depending on age of students) so that each student receives personalized attention each week from the teacher.
 where we are:
We are located at 138 Olive Street, in Old Town, Keller.